The Van Arsdale Varsity basketball team tryouts were held on October 12, 2023 in the Van Arsdale Gymnasium.
The Cardinals are a Brooklyn B3 team, with Jonathan Beckman as their coach. He has sent a few of his former players of the class of 2023 to continue to play basketball in college. This year, Beckman continues to push his players to become great players and young men.
While watching the tryout, I could see that all the young men trying out for the team were pushing themselves and fighting for a spot.
With basketball season starting, the real question is what does he plan on doing this year to be better?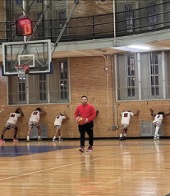 Due to him losing six senior players who contributed a lot to last year's team, what is he looking for in new players trying out for the team?
Many young men showed up to the basketball tryouts ready to give it their all. Beckman had them doing drills that would really push them to their limit, which gave many fatigue but pushed a lot of them to fight for their spot letting them know it's them vs the rest of the students. Many would have wanted to quit but none have so far.
When Mateusz Lodziato, one of the team members, was asked if missing players would affect the team, he stated, "no, because we gained a lot of experience with the players we had last season that will continue on the team, so that would make up for the players lost."
On the topic of losing players, it seems to not be such a worry because of the players still on the team and the other young men trying out.
Players say that Beckman is hard on them because he knows what they're capable of; they just need someone that is willing to push them to their potential.